March 28, 2020
Art Now for Autism 2020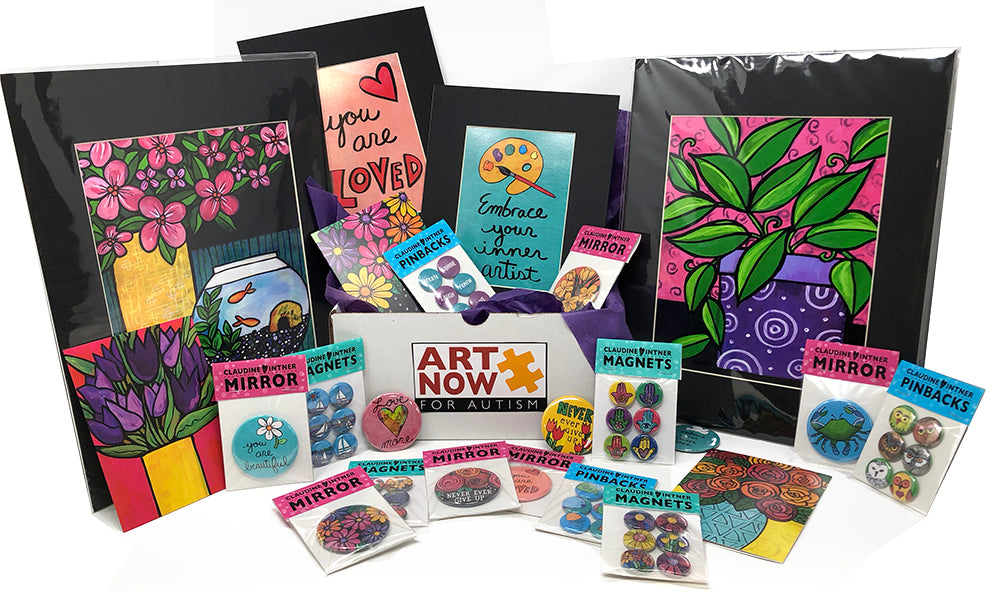 April is Autism Awareness Month

As you may know my son Jacob has autism. He attends Kennedy Krieger High School which provides individualized special education and services for students in Maryland. During this month, Kennedy Krieger typically hosts their fundraiser ROAR for Kids. Due to the coronavirus crisis, the run/walk has become a virtual event with participants walking at home. Money raised for Kennedy Krieger High School will be used to expand the renovation of the two school stores to combine them into one and make them fully accessible to all students. The store is a vital part of the school's industry program and one of Jacob's favorite things at school.
I am so grateful for Kennedy Krieger High School and love to use my art as a way to raise funds for the school. Last year you helped me raise $1,225 for Kennedy Krieger.
Art Now for Autism 2020
With so many of us facing stay at home orders and other restrictions, I am making this year's fundraiser a little more fun with mystery boxes. You pick the theme of your box, and I'll fill it with colorful art prints, magnets and other goodies from my studio. Themes include flowers, plants, nautical, words and sayings, and more! I am offering two different boxes. Here's what you will receive: 
Mystery Box - $25 donation or more
- two 5x7 matted prints ($36 value)
- magnet set ($9 value)
- extra goody such as a pocket mirror, pinback button set, greeting card, etc. ($5-9 value)

Super Sized Mystery Box - $50 donation or more
- two 8x10 matted prints ($48 value)
- two magnet sets ($18 value)
- extra goodies such as pocket mirrors, pinback button sets, greeting cards, etc. ($10-$15 value)
**THANK YOU SO MUCH FOR SUPPORTING OUR FUNDRAISER THIS YEAR**
Our fundraiser has now come to a close, and we were able to raise $462 for Kennedy Krieger with your help!