October 12, 2018
Rainy Day Show Survival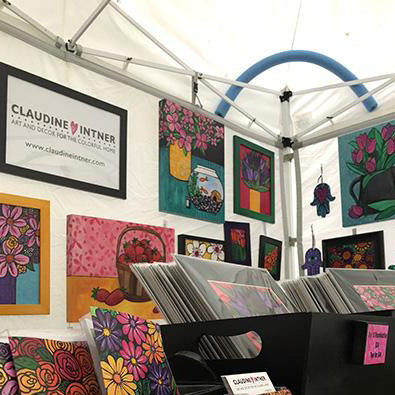 Last month was one of my favorite arts festivals - Artsfest at Annmarie Gardens. It's a large two-day show with over 160 artists and crafters in a beautiful wooded sculpture garden in Southern Maryland. Saturday's weather was gorgeous. Unfortunately Mother Nature had other plans on Sunday and it was very rainy. I thought I would share some of my helpful tips for surviving rainy outdoor shows as an artist. 
Must Have Items
Pool noodles - Yes, really! They are great for adding to corners of tents to prevent pooling of water on top of the tent.
Tarps - Use to cover up as needed. They are great for covering things quickly in a downpour or overnight. My tent was dripping from where the braces meet their bolts. We were able to throw a clear plastic tarp over the tent to prevent further leaks. Tarps can also be used to cover up your stuff during transport to and from your tent.
Clear shower curtains - You can use these to cover your work or create a clear front of tent curtain to prevent water from getting on items close to the doorway. Be sure to leave a large doorway for customers though. If you close your tent up too much, they will think you are not open for business. 
Paper towels & towels for drying items and cleaning up
Watertight Totes - Keep your products dry during transport to and from your tent. If you are doing a multi-day show in the rain, be sure to put all your table cloths and paper goods including business cards in a tote overnight. Otherwise they will absorb the moisture like crazy. I also cut back on the number of paper items I display on rainy days - fewer prints and cards.
Plastic bags - I typically use paper bags for customer purchases but on rainy days I pull out plastic bags to keep their purchases dry.
Trash bags - To throw wet items in at pack up time.
Don't forget to prepare yourself! 
Waterproof shoes - I really wished I had rain boots! I spent most of the day in soaking wet shoes and socks.
Raincoat or poncho
Change of clothes
Patience and a good sense of humor - If you are sitting in your tent sulking over the weather, customers will run the other way! Be cheerful and invite them in.
A few more tips!
If it is muddy, be sure to raise items that are close to the floor so they do not get dirty.
Important reminder to add weights to your tent to prevent liftoff. I've been to several events where tents have literally taken flight in the wind. If you don't weigh your tent down, you can damage your work or worse - hurt someone or damage other artisans' tents and products! You should have tent weights for every outdoor show whatever the weather.
Periodically waterproof your tent especially the seams. I went to the local boating store and got a marine waterproofing spray.
Ater the show, be sure to open up your tent, wash off dirt and leaves, and allow it to dry thoroughly before storing it. 
See more art and craft festival tips and ideas on my Pinterest board.